Stimulating Children's Imagination
Welcome to Texas Teepees online website. We've been hand making teepees (aka tipi or tepee) for children of all ages since 2002, with hundreds of satisfied customers and happy kids. The teepee is a child's favorite - private play space, hunting tent, puppet show backdrop, storefront, hideout - it's about imagination! Special needs children can benefit from the comforting environment and churches and schools use them for a quiet place. Homeschooling parents find them helpful for concentration when the child is doing school work. They make wonderful gifts, especially shared, and will provide years of enjoyment and creative encouragement. Many customers have told us they keep a teepee in their home as a special play item for visiting grandchildren, nieces & nephews, friends' children, etc. Some customers have purchased for the family dog or cat. We've had them used as accessories at outdoor parties, for adults as well as kids.

Our teepees come in two sizes, standard 5' and large 6'. We use durable, double stitched fabrics in lots of colors and patterns. They're primarily for indoor use but can be used outdoors with the recommended tie-down kit to prevent blowover. See Teepee Kits & Accessories for more info on the tie-down kit. Legs are carefully selected 1x2 wood that is machine and hand sanded smooth with no sharp edges or slivers. The fabric is stapled to each leg in four places for strength and crisp appearance. We're proud of our Made in America quality.
We also offer the two sizes of children's teepees in kit form, with finished fabric and instructions. You purchase and prepare the wood legs and assemble the teepee. See the page titled Teepee Kits & Accessories for more information and cost savings. We often get requests for personalization, such as a child's name. We aren't equipped to do embroidery and suggest using the keywords "name applique" and/or "fabric letters" on Etsy, eBay or Amazon to find suppliers for that accessory. Craft stores, such as JoAnn's and Michaels are also sources for iron-on or glue-on letters, as well as fabric paint for adding names or symbols.
Visit the rest of the site keeping in mind that our fabrics are constantly changing and that pictures may show teepees that are no longer available. Check the New Fabrics page for our latest patterns. We'll be happy to provide pictures of current fabrics and in-stock teepees. You'll find we have lots to choose from for girls and boys, plus gender neutral and designer.
We ship FREE to the contiguous 48 states using FedEx Ground Home Delivery, which includes tracking and insurance. We can also ship FREE by FedEx Ground to a business address if that is desirable. Each fully assembled teepee is sealed in a heavy duty poly tube and shipped in a cardboard box for protection. We'll gladly quote shipping cost for FedEx Overnight or 2 Day service before you order. If you're in the Dallas/Ft. Worth area, pick up from us at no charge.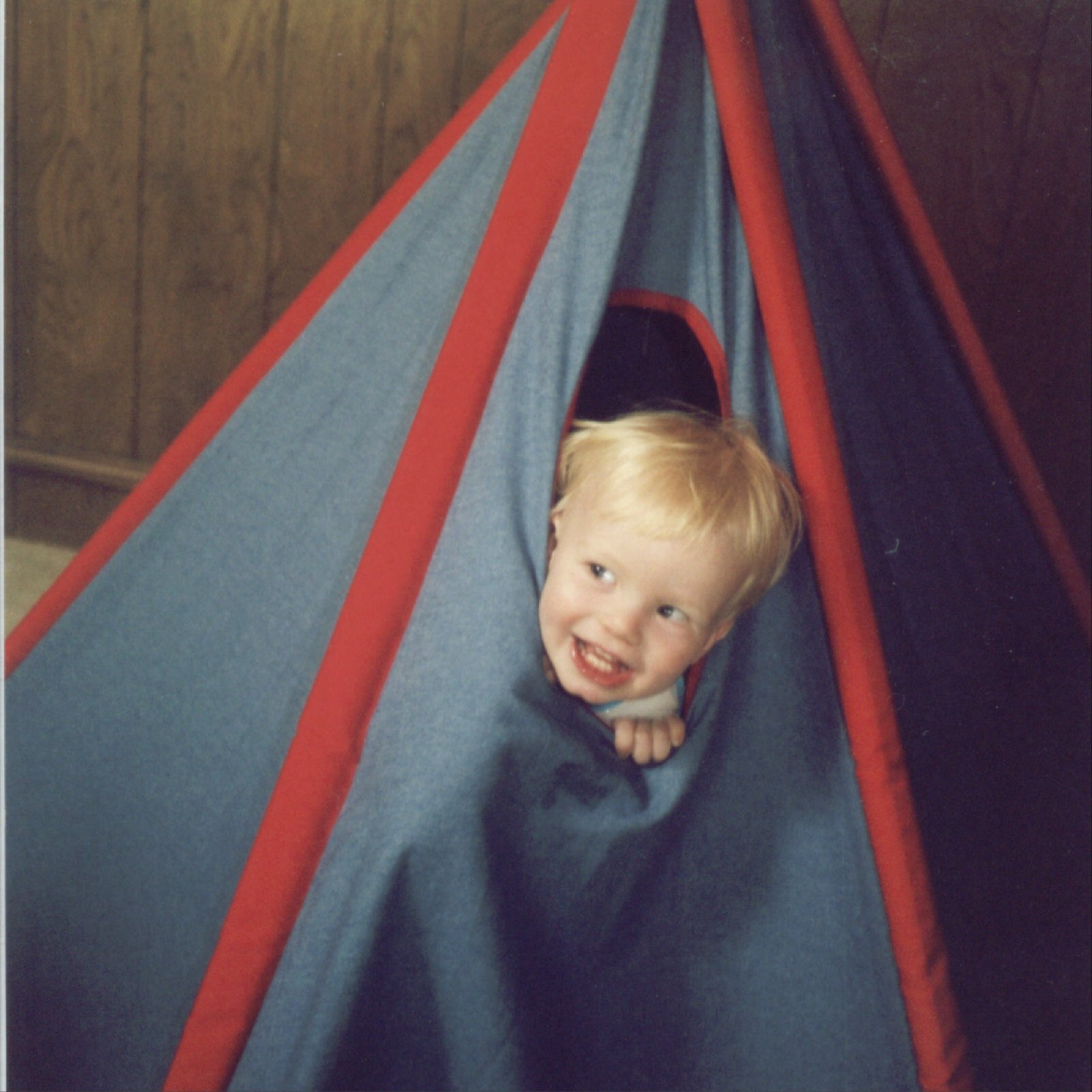 Our youngest grandson and the teepee that
inspired us to start making them in 2002. He
is now 2" taller than his 6'3" grandpa.